LMS RESTORATION AWARDS SCHOLARSHIPS TO SIX LAMAR COUNTY GRADS
Six Lamar County high school seniors have been awarded scholarships for 2014 by LMS Restoration.  Those students earning the awards are Lucas Chipman – Prairiland, Sierra Kruse – Prairiland, Madeleine Hatley – Paris, Sara Mann – Paris, Meghan Gillean – Paris, and Carson Rast – North Lamar.
Lucas is the son of Joel & Melissia Chipman, ranks second in his class, and plans to attend Baylor University for a Pre-Med major.  Sierra is the daughter of Brian & Debbie Kruse and looks forward to Animal Science study at Texas A&M University-Commerce.  Madeleine is the daughter of Richard & Deborah Hatley and plans to attend the University of Texas to major in Public Relations.  Sarah is the daughter of Mike & Misty Edzards and will major in Biology at Austin College.  Meghan is the daughter of Ricky & Missy Gillean and ranks fourth in her graduating class.  Carson is the son of Bob & Laurie Rast, is second in his class, and will attend Texas A&M University to major in Chemical Engineering.
LMS Restoration is proud to support and encourage these outstanding young leaders in the Paris community and Lamar County area.
2014 Scholarship Winners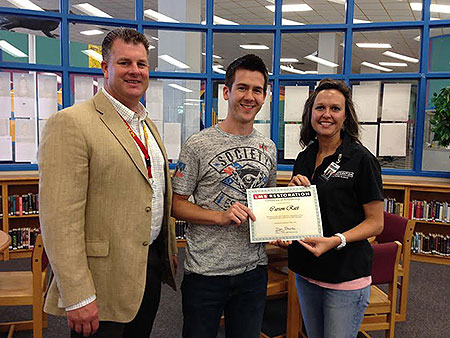 North Lamar HS Principal Clint Hildreth, winner Carson Rast,
LMS Restoration Director of Communications Mahona Kinabrew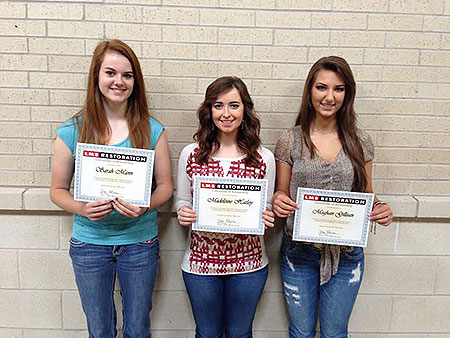 Paris High winners Sarah Mann, Madeleine Hatley & Meghan Gillean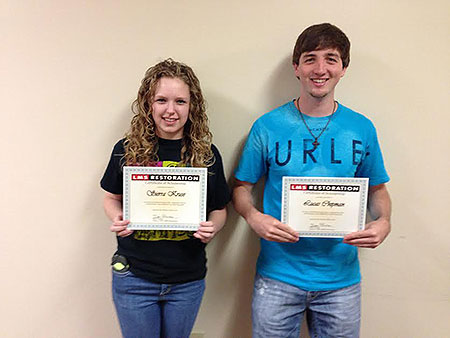 Prairiland winners Sierra Kruse & Lucas Chipman