Book Restoration Services in Paris, Texas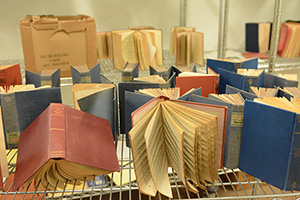 After suffering from a flooded home or building, you may find that your antique books have become soaked and possibly even infested with mold. There are different kinds of mold that responsible for causing allergic reactions and triggering asthma attacks, among other health problems. Black mold, for example, is a type of mold that can be a danger to not only books, but also to human health. If dealt with immediately, mold won't have the opportunity to spread further in your home. Salvaging your valuable books and eliminating dangerous types of molds are just few of the reasons why mold remediation should be performed.
Book Mold Removal
When handling books that have been infested with mold, always wear protective clothing, gloves and a mask. These measures are important to ensure your skin and lungs are also protected.
Remember that black mold can easily grow in contaminated water. Black mold may begin to appear a day or two after the flooding.
If the books are not contaminated with black mold, then you can let the books air dry, or freeze the books and dry them later if immediate air drying is not possible.
Air drying is one of the best methods for books as the UV rays from the sun will kill the mold. It's best to dry the books outside, as indoor air drying increases the risk of mold spores spreading throughout your entire home.
Outside of a Dry Book: Removing Mold and Mildew
Hard Cover: If the mold growth is on the cover of your book, use a fine brush or soft cloth to brush away mildew. You can also get a HEPA filter vacuum with a hose attachment for this. Apply a thin cloth or dryer sheet over the nozzle and it can turn into an effective tool for removing mold growth.
Paperback: Get some denatured alcohol and use a soft cloth to kill the mildew. Wipe with a light hand so you don't damage the paper cover. Dab away excess liquid and allow the book to air dry thoroughly, being gentle all the while.
Contact us for a
FREE

Estimate
---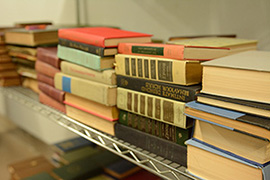 Cloth, Leather, Etc.: For these kinds of covers, you can spot-clean with denatured alcohol. Test it out on a corner first, to check if the cover changes colors or bleeds when exposed to the alcohol.
The Benefits of Professional Book Cleaning
When in doubt, it's best to seek out the professionals. We have water extraction machines that work fast and are able to suck up liquids from any corner. While this may seem like an easy task to do yourself, the process of extracting water can be challenging. We have professional technicians who have experience in restoring books and other items for many years.
We'll make sure to take care of your books like they're our own, and when we're through with them, your books will look good as new and won't have any foul odors or remnants of mold. 
If you are in need of any other disaster restoration services, contact LMS Restoration by dialing: 903-229-4846.  You may also visit contact LMS Restoration if you have any other concerns. All of our services are available to properties located in the surrounding areas of Paris, Texas.