Fire & Water Damage Restoration in Mount Pleasant
When the unthinkable happens to your home, resulting in fire and water damage, it's easy to consider everything as a loss. However, in most cases, there is a very good chance that things can be restored to normal after a natural disaster or major accident.
All that is needed is to find a repair and restoration company with the experience and expertise to handle such a delicate task. LMS Restoration is that restoration service provider for customers in Mount Pleasant, Texas. We have the high-end equipment and manpower to handle any fire-damage or water-damage restoration job. Rely upon us to get your property fixed up from the damage it has suffered. You can rest assured that the results will impress you.
You Can Always Depend on LMS Restoration
LMS Restoration has been in the fire damage and water damage restoration business since 1997. As such, we've had more than enough time to develop the experience, expertise, and equipment needed to make us one of the leading names in the restoration industry, especially in Mount Pleasant and its surrounding areas.
We also hold the unique distinction of being one of the largest Native American-owned restoration companies in the United States. In 2002, LMS Restoration made the INC 500 list as one of the fastest growing privately-owned companies in the US. As such, we are pre-qualified for "Indian Preference" status.
We excel at more than damage restoration, however. We also offer a robust list of jobs that cater to any housing or property management needs, from residential water mitigation to commercial property disaster response. We have our own inventory of equipment as well as a huge fleet of heavy-duty transportation vehicles.
Fire Damage & Water Damage Restoration Services by LMS
Here at LMS Restoration, we offer a wide and diverse range of property damage restoration services to get your home or office building back in shape no matter what it's been through. These services will be performed not only with the most advanced restoration technology and techniques, but also by experienced and highly-trained professionals. This ensures the best outcome for you and your property, no matter how extensive the damage is.
The services we offer include:
Whatever restoration job you need, you can rest assured that LMS Restoration is more than up to the task.
Rely on LMS for Your Restoration Needs in Mount Pleasant, TX
Don't give up on your property. No matter how bad the damage looks like, there's a very good chance that we can bring it back to its former glory. Visit our Contact Us page right away or call 903-229-4846 to get the recovery process started. Our team of experts will also be on hand to answer any questions or inquiries that you may have, as well as offer a free estimate for your Mount Pleasant, TX property.
Testimonials from Mount Pleasant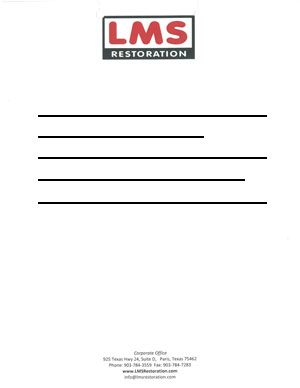 O.M. Adams of Mount Pleasant, TX
O.M. Adams is an insurance agent that unfortunately experienced a property disaster of his own. A broken pipe resulted in water inside his home.