Mold Remediation Process in Paris, Texas
Mold is a kind of fungus found in nature. It's a hardy plant that grows on wood, plants, food, and even on the walls and floors of your home. The main purpose of mold is to break down both plant and dead animal matter.
But when mold makes its way into your home, it often causes damp and musty smells in your basement. If left alone for too long, mold spores can find its way into the ductwork and can trigger allergies and other respiratory diseases. Mold has always been an important issue that needs to be addressed as soon as it's spotted in your home. The process of removing mold from your home is called mold remediation.
Steps for Mold Remediation
Important main steps in mold remediation are as follows:
Protective equipment should be worn
Contain mold spores
Turn on negative pressure
Take out the mold
Mold prevention
Protective Equipment
When mold remediation is growing, it's a time when mold spores are most likely to be disturbed. This is why protective equipment and clothing should be worn when dealing with mold. The protective equipment includes a respirator or dust filter mask, gloves, goggles, and protective clothing that's easy to clean.
A professional restoration company, like LMS Restoration, will have all the tools and equipment to safely and effectively remove any mold and mildew in your home. Leave it for the professionals and give us a call today at 903-229-4846.
Contain Mold Spores
If a large amount of mold is to be removed, you can decide to have the room sealed off to prevent mold spores from contaminating the rest of your home. You know that you've hired professionals when they seal the room using duct tape and plastic sheets to completely cover vents, doorways, and other openings.
You'll also need to minimize dust, as mold spores can stick to dust and can then be transported into the other rooms of your home. Before the professionals arrive, it's a good idea to thoroughly sweep the floor free of any dust.
Contact us for a
FREE

Estimate
---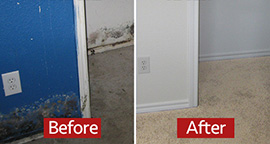 Creating Negative Pressure
We use negative pressure in the room that's to be cleaned. This can be done by using an exhaust fan to blow out of a partially opened door or a window. This is done so that the mold spores that were disturbed in the remediation process can end up outside. Before having your home's mold problems cleaned, make sure that the air conditioning systems are shut off.
Take Out the Mold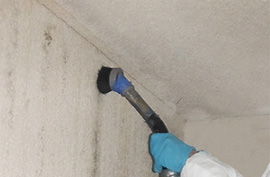 When the mold removal process is happening, that's when mold spores are most likely to be disturbed and float up into the air. To stop this from happening, we can slightly moisten dry mold growth. The dried variety can allow more spores to escape into the air.
Prevent Mold from Coming Back
We will use a mold killing solution to fully clean surfaces that had mold growth, and include surfaces that were mold-free. Whether affected or not, all surfaces in the room will have some mold spores on them. If ignored, these spores can grow into mold later on. Killing them will help prevent mold from coming back.
Professional Mold Cleaning
If the mold problem still won't go away, then it's time to seek out the professionals. When you call LMS Restoration at 903-229-4846, we'll be sure to clean your home thoroughly. We'll also remove any and all traces of mold that's been left behind. Our professionals have both specialized tools and experience to get the job done. When we're done with your home, it'll be as if there was no mold infestation in the first place. 
If there are other services you require, we also offer water damage, disaster restoration and fire and smoke damage restoration, among other services. So what are you waiting for? Contact LMS Restoration today and we'll make your home mold free. We proudly service properties located in the surrounding areas of Paris, Texas.