Insulation removal and Insertion
Insulation Removal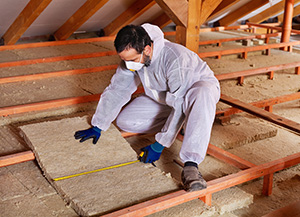 The removal of attic insulation is the first step to proper attic-cleaning. When your attic has old or very dirty insulation, then the time has come for a replacement. Old attic insulation is often considered inefficient, and could attract higher energy bills, as opposed to lowering them. When you have dirty attic insulation, it could have been the victim of savage rodents or birds that have gotten into the insulation, which can lead to health complications in the future, and makes for a very unhealthy home. If this is the case, then it surely is time for removal and replacement--and we at LMS Restoration are particularly good at that. We'll remove the old insulation materials from your attic without disturbing the rest of your home.
We use a high-powered vacuum to suck up the dust and debris accumulated from time efficiently, and it's all gathered up in a large-volume filter bag. Afterwards, the material is thrown away properly, away from the home. In this way, blown-in insulation removal is very simple.
Batt insulation, on the other hand, is disposed of by placing it in contractor trash bags and removing it by hand. While you can do it yourself, it's recommended to let the professionals handle this, to avoid any dust contamination or other dangerous health risks.
How Is Insulation Removed?
LMS Restoration crews utilize the latest and safest insulation removal techniques available. Rodent contamination, mold infestation due to water damage, asbestos pollution, or just old, dusty and deteriorating insulation should not end up in your living quarters; and in the air you and your family breathe.
Contact us for a
FREE

Estimate
---
We customize the method used to the specific situation at hand. The loose fill, blown in insulation is removed with a powerful commercial vacuum that remains outside the property at all times and sucks in attic insulation without debris entering the home. Fiberglass rolls and batts are collected in bags and removed from the premises. With rodent infestation, we can also spot-remove insulation if it is contained to a certain area. Our staff is fully trained on the proper method of removing old, contaminated insulation carefully and thoroughly.
Insulation Installation
To replace the insulation that was removed is an equally simple task, as we can just insert the insulation in the interior walls. Drywall is also considered the most common insulation in a home, and there are various materials you can use for the exterior to give your home a more comfortable feel in the summer, and so it won't be too cold in the winter.
If you want another option to add more insulation, we can inject the walls with fluffy fiberglass insulation, as this is one of the simplest and most cost-efficient ways to make sure your home is always efficiently using energy. Because fiberglass is easy to cut, we can even trim the insulation to fit nearly any cavity.
When you Need the Best
At LMS Restoration, we have years of experience in providing large-scale restoration when it comes to the field of water and fire damage, and we also have experience in mold remediation. If you want your property to return to its pre-disaster condition, we're here to help. We have highly-trained professionals at the ready, all determined to do an excellent job for you. If you're in the area of Paris, Texas, then don't hesitate to call us at 903-229-4846 or visit our contact page at any time. Our operators are standing by 24/7 to answer any questions that you may have.