Two of the great things about churches is their age and overall design. Depending on the foundation day of the city or town, some religious structures have been standing with the people for hundreds of years. Because of its religious importance and historic representation, every community treats their church like their individual homes. However, just like any property, churches cannot withstand the damage caused by extreme disasters and can surely crumble from natural events.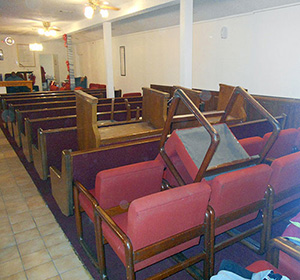 Although it is devastating to see one's home in disarray, another emotion is felt when a church is seen severely damaged. Some structures house beautifully painted walls and stained glass windows, while others were built with old fashioned materials. It is possible that the whole community can offer a helping hand, but we, at LMS Restoration, believe that this method should only be used in small matters. A professional is needed, and this is what we are for.
It is possible that your local church is old and stores very important documents and/or items that need to be handled gently. Disturbing the surroundings after a major disaster could result in further damaging its structure, furnishings, and the like. Also, consulting do-it-yourself methods could produce negative results. Therefore, it is wise to leave the restoration job to the professionals.
Preserve The Beauty of Your Church Today!
We, at LMS Restoration, have been serving properties in Paris, Texas since the year 1997. We have done a great job restoring both commercial and residential properties to a better state, and we can treat your devastated churches the very same way. We are aware of the kind of building we are working with and promise to provide you with the best restoration services available. Equipped with the right tools and methods for the job, it is certain that your church will be standing back up in no time.