Water Heater Overflow Cleanup Services in Texas and Oklahoma
Water heater overflows are some of the most common causes of indoor flooding and water damage in the states of Texas and Oklahoma. This type of overflow happens when the water tank in your home's water heating system leaks or bursts, causing water from the main supply pipe to rush in uncontrollably. Once discovered, the usual result is usually a flooded basement. In some cases, the flooding can get out of hand and threaten living spaces in your household.
The Effects of a Water Heater Overflow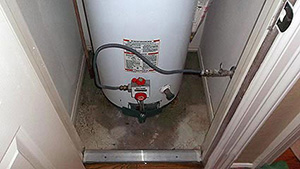 A water heater overflow flood presents several dangers to your property. In its early stages, it releases scalding hot water that can hurt people and damage objects in its immediate surroundings. As the water cools down and accumulates, it can soak carpets, draperies, appliances and furniture. In the most dangerous cases, the flood can seep into electrical outlets and come in contact with live wires, creating fire and electrocution hazards.
In the aftermath of a water heater overflow, the floodwater can linger behind and cause premature rusting on metal parts and fixtures of your property. Even after you've drained it and cleaned up, invisible pockets of moisture can remain and weaken wood. It can also trigger the growth of harmful bacteria and mold that can threaten the health of your loved ones.
What to Do When Your Water Heater Overflows
If you have a case of water heater overflow in your home, contact LMS Restoration for a quick solution to your problem. We specialize in fire and water damage restoration projects in Texas and Oklahoma. While typical plumbing services stop at halting the source of flooding in your home, we go the extra few miles and take care of the cleanup and restoration aspects of the job. We pride ourselves in being able to return your place to its pre-flooding form in the shortest amount of time possible.
Contact us for a
FREE

Estimate
---
When you call LMS Restoration, we schedule a visit to your Texas or Oklahoma property for a free inspection and cost estimate. Our friendly and professional team is ready to take your call 24 hours a day, seven days a week. We're great at delivering prompt responses to emergencies and we'll even help you file a successful claim to your insurance firm.
You can also leave us a message on our Contact Us page for general online inquiries. LMS Restoration is always here to take care of all your fire and water damage restoration needs.