LMS uses the latest techniques and equipment to remove smoke, soot and harmful residues. LMS Restoration decontaminates and restores facilities and equipment. Our fire damage restoration services include deodorization, structure and inventory cleaning, air quality checks, HVAC system cleaning and more.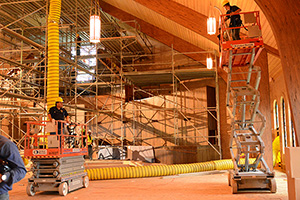 Secondary water damage at a fire loss is always a huge concern to our clients. Our clients benefit from the LMS fleet of mobile mitigation / drying equipment, command center, trailer mounted desiccants, and commercial generators – all prepared for immediate response.
Available around the clock, our experts can mobilize quickly to any location in the country. Our project managers have years of experience working with property owners, risk managers, and insurance companies.
LMS Fire Restoration Services include:
24 hour emergency service
Timely and accurate damage estimates
Catastrophe Management
Rapid response and mobilization
Structural drying
Corrosion control
Temporary power
Temporary HVAC
Structure and content cleaning
Smoke odor deodorization
Cleaning & decontamination of heating and air conditioning systems
Emergency board up
Document recovery and reproduction
Pack-out, moving, and storage
Carpet cleaning
Demolition and debris removal
Reconstruction
IICRC trained and certified