Appliance Leak Clean Up in Paris, Texas
Appliance leaks are some of the most difficult situations to manage. If your dishwasher or washing machine floods your living space, your floors and furniture are at risk of harboring water damage. Normal cleaning techniques might reduce the amount of wetness and moisture, but they're not enough to completely dry your property. If you want your appliance leak problem dealt with professionally, contact LMS Restoration. We have the equipment and manpower to clean up the mess entirely.
LMS Restoration is A Phone Call Away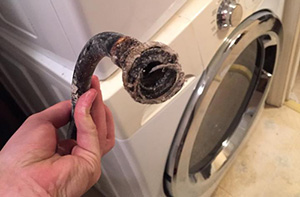 Handling an appliance leak doesn't end with just drying the affected area. Appliance leaks are a type of water damage that can seriously affect your indoor environment. Not only does it encourage mold growth, but it can also cause wood rotting and system failure to your other appliances. If the leak isn't immediately addressed or properly dealt with, your atmosphere becomes unsafe and unhealthy.
LMS Restoration has the necessary state-of-the-art systems to remove water and moisture in even the tightest of areas. Our fully licensed and certified technicians are trained to stop the leak and clean the affected areas fast and efficiently. Once the leak is handled, your property's comfort level and healthy atmosphere will be restored in no time. You can trust us to take care of the appliance leak problem with zero mistakes or delays. We've been in the business of providing professional restoration services since 1997, and our experience has helped us perfect our procedures and equipment.
How to Minimize Water Damage
Contact us for a
FREE

Estimate
---
When you call LMS Restoration to handle your appliance leak problem, we'll immediately dispatch our team to your area. Thankfully, you can minimize the water damage even before we arrive. To do this, you must do the following:
Turn off the appliance that's leaking. If that's not possible, then shut off your property's main water supply.
If the leak is near electrical outlets, turn off your fuse or breaker box and call an electrician.
If there's no need to turn off the electricity, turn on your fans or dehumidifier to quicken the drying process.
If the water is leaking through the ceiling, place a bucket under it.
Soak as much water as possible with towels or mops.
If the affected area has a lot of items, move them to a dry area.
If you can't move heavy furniture, raise them by putting blocks underneath.
You can reach LMS Restoration at 903-229-4846. Our emergency services are available 24/7 and cater to properties in the surrounding areas of Paris, Texas. Contact us today!