Water Extraction in Paris, TX
If you have ever had water damage whether from an aggressive storm, a burst water pipe, toilet overflow, sewage backup or even the aftermath of a fire, you know you must act fast to keep the water damage from costing you extra money in repairs. It's important to begin water extraction as soon as possible to avoid mold growth, wood rot and other secondary water damages. Mold especially is a serious risk that can compromise the integrity of the structure of your home and cause serious health issues.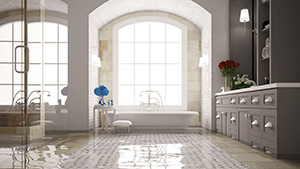 It's important to remove the water as quickly as possible because every minute counts to prevent mold. Contact LMS Restoration when you need a reliable restoration company, we will dispatch our team of restoration technicians to your home or commercial property right away for water extraction but while you wait, it's always best to do what you can to contain the water damage from spreading. Not to mention, it is important to keep water from electricity if possible.
Water Extraction Process
There are two types of water and both must be handled properly to avoid further damages. Standing water is one thing as you can clearly see wet floors and feel wet carpets and carpet padding. Our water extraction equipment will quickly remove the water and our restoration team will begin the restoration process for these areas. This advanced equipment pulls the water to the surface and sucks it right out.
Contact us for a
FREE

Estimate
---
Then there is water that can not be easily seen. This water is usually in drywall, ceilings and other hard to see areas and must be specially treated as it requires a moisture detector an infrared cameras to locate traces of moisture and water and will quickly turn wet spots into mold or mildew.
After the water extraction process is done, we will inspect your carpets and floors and ensure the subfloor as well as the surfaces are completely dry. We also use truck-mounted water extraction systems for large levels of flooding and water.
Contact LMS Restoration for Water Damage Restoration in Paris, TX
At LMS Restoration, we have been serving homes located in Paris, Texas and surrounding areas, since the year 1997. Our team of trained professionals will only use the best of the best resources and techniques to bring your home back to its pre-damaged state. We offer quality restoration services for both water damage and fire and smoke damage restoration, and we accept projects for both residential and commercial properties. If you are interested in hiring us, call us at: 903-229-4846 or visit our contact us page, and we'll come to the rescue!