A leak from a water pipe burst can come from a number of areas in your home including the bathroom, under sinks, or even from underneath your home. No matter where a water pipe burst stems from, it's necessary to get it under immediate control in order to prevent indoor flooding. If you let the leak from a water pipe burst build up and continue to leak, your home (and wallet) could suffer extensive or even permanent damages.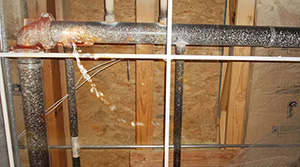 A water pipe burst can occur at any time without notice and quickly lead to water damage or even flooding in your home or commercial establishment. If a water pipe bursts at your residential property, it's necessary to get immediate help from a professional restoration service provider to properly repair and clean up the damaged structures and contents. Even though water seems harmless, when it is flooding or leaking in your home it can easily corrode metals, weaken wood, ruin textiles and create biological hazards that could harm your property and the people and animals living in it.
Our licensed technicians at LMS Restoration know the proper rules and regulations for fixing and cleaning a water pipe burst in your home and restoring your property back to its original condition safely and effectively. Our crews will find and inspect the problematic source and all affected areas and then provide you a free estimate for complete restoration and reconstruction services. Once you give us your approval, our technicians will proceed with fixing the burst water pipe and performing water damage restoration on the affected areas.
When dealing with water pipe bursts, immediate attention is required to minimize damage and property loss. LMS Restoration provides free estimates to restore your burst water pipe and water damage. We will even bill your insurance company directly to offer additional convenience to you during such a stressful time. Don't wait for the damage to accumulate and cause other issues in your home. Call us immediately at 903-229-4846. We offer 24/7 emergency services so that you can always count on us to get your property back to normal, no matter what time it is.
24/7 Emergency Water Pipe Burst Cleanup
Regardless of where the water pipe burst comes from, whether it's in the kitchen or bathroom or from underneath the structure, our professional crews will find the problem and fix it no matter what time it is, day or night. We always have technicians on standby ready to take your calls and dispatch to your location to perform water pipe burst cleanup and restoration immediately. The complete process includes: 
Water source shutdown
Damage mapping
Flood containment
Water extraction
Dehumidification 
Disinfection
Deodorization
Structure and Contents Restoration
Final assessment