Property Reconstruction Services in Paris, TX
Use LMS Restoration as your Turn Key Solution on your reconstruction or restoration project!
What do you do after the fire has been put out, your belongings are packed out and being cleaned, and your home is a mess? LMS Restoration can handle all phases of your clean up-from the initial contents pack out and cleaning, the cleaning and odor removal in your structure-to the final, most important phase-the Rebuild.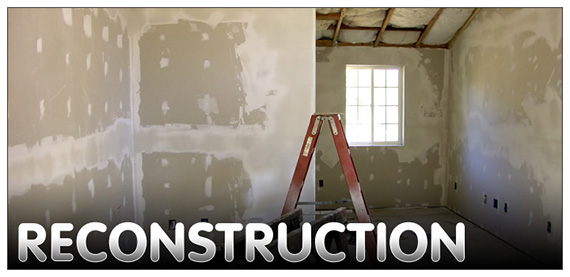 Wouldn't you rather have an experienced, specialized company handling your loss, rather than a general contractor or remodeler with no specific training or experience dealing with fire and smoke damage? You wouldn't go to a dentist to get a heart condition checked out, so stick with the experts and let us put our knowledge and experience to work for you!
Many times during the process of reconstructing a home damaged by fire, there will arise unseen damages that must be dealt with quickly and efficiently to eliminate costly and frustrating down time during the rebuild phase. LMS Restoration speaks the language of your insurance professional, so that you don't have to worry about getting hit at the end of the job with a bill for items not covered by your insurance, simply because your contractor didn't know how to deal with the insurance company.
Contact us for a
FREE

Estimate
---
Your insurance company has a very specific criteria for how they want estimates/invoices/billings presented to them for approval and payment, and LMS Restoration will make sure that criteria is followed to avoid any unwelcome surprises at the end. The last thing you want is your contractor dumping that headache on you, demanding payment for a repair that you have no idea how to justify to your agent.
Trust the experts at LMS Restoration, and take advantage of our turn key restoration services-from start to finish, we can help you through the entire process.
1 Year Construction Workmanship Warranty
Lifetime Smoke Odor Removal Guarantee
We, at LMS Restoration, have been serving homes located in the surrounding areas of Paris, Texas, since the year 1997. Our team of trained professionals will only use the best of the best resources and techniques to bring your home back to its pre-damaged state. We offer quality services for both water and fire and smoke damage restoration, and accept projects for both residential and commercial spaces. Property reconstruction is one of our specialties. If you are interested in hiring us, dial: 903-229-4846 or visit our contact page here, and we'll come to the rescue!