Water Extraction Process by LMS Restoration
If you've ever been the victim of an unfortunate flooding—whether by a storm, broken pipe, sewer backup, or leftover water that was used to put out a terrible fire, everyone can agree on one thing: there is absolutely no time to waste. Your home needs to undergo the water extraction process immediately, as additional damage can happen the longer water sits in your home. Your first priority should be controlling—and as much as possible, avoiding—the growth of mold and rotting the wood. Not only is mold a serious health hazard, but it can also damage the integrity and infrastructure of your home.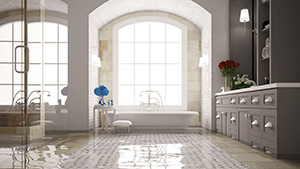 Once it's safe and more dry, know that every minute is crucial to lessening the damage that mold can cause. Keep in mind that while it's better to trust the professionals with water removal, it can't hurt to call a water extraction professional to inspect the damage and to come up with a strategy to drain the water. You can help by jumpstarting the water extraction process, making the professional's work much easier and faster.
Suck it Up
Remove any visible pockets of water with either a wet vacuum or a pump, if you happen to have one. While doing this, be very careful because introducing electricity into a wet area can be very, very dangerous.
Smart Water, Dumb Water
It's very important to understand the difference between the types of water that accumulate after you've removed the bulk of water from your home. These types of water accumulation require certain water extraction techniques. 
Contact us for a
FREE

Estimate
---
The term "dumb water" is formed because it's just water that lies around your home. It may be visible, or it may be hiding within carpeting and padding. Using special water extraction tools, a professionally trained technician can remove more water than the regular wet vacuum. Try compressing the carpeting with a weighted extractor, so that more water is brought towards the surface that can be sucked up.
"Smart water," on the other hand is named as such because it knows how to hide. It's tricky, and as such, needs more attention so that it can be detected and the water extraction process can begin. True to its namesake, this type of water accumulation can't be resolved through simple water extraction. The water that is absorbed by the drywall or into inaccessible areas of your home—technically, the type of water that knows how to get to places it shouldn't even be able to access—is considered smart water. You may not even be aware that you have this problem until you have mold or wet spots on the walls.
Emergency Water Removal
Technicians will begin the water process by using powerful submersible pumps to mop up what the wet vacuums may have missed. This also helps reduce drying time and helps prevent mold and secondary water damage.
Inspect Pad and Carpet
Then, they will carefully inspect and remove the carpet as well as the carpet pad if needed, to protect the subfloor.
Water Removal Equipment
We can use moisture detectors and hygrometers to measure the extent of the moisture saturation. We can also use infared cameras to find the "smart water" hiding behind walls and ceilings. If the damage is particularly terrible, we can use submersible and gas-powered pumps for continuous pumping of the high-level water. And when push comes to shove, we can use truck-mounted and portable extraction units to perform efficient water removal.
Always Choose LMS Restoration
We, at LMS Restoration, have been serving homes located in the surrounding areas of Paris, Texas, since the year 1997. Our team of trained professionals will only use the best of the best resources and techniques to bring your home back to its pre-damaged state. We offer quality services for both water and fire and smoke damage restoration, and accept projects for both residential and commercial spaces. If you are interested in hiring us, dial: 903-229-4846 or visit our contact page here, and we'll come to the rescue!