LMS Restoration emergency response teams are on call around the clock to respond to your board up and tarping needs.  Our professional board up and roof cover service can help you secure your property and protect its interior after an unexpected disaster, such as a fire, storm, or vehicle intrusion.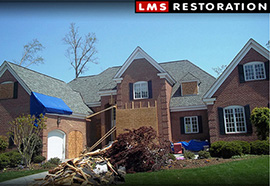 We can effectively and efficiently board up doors, windows, garage doors, roofs and similar other areas identified to be vulnerable to weather, animals, looters and more.
In addition to emergency board up and roof cover, LMS Restoration can also provide temporary power and debris removal.  This combination of services can streamline the effort to getting your home or office back to normal.
Contact us today!